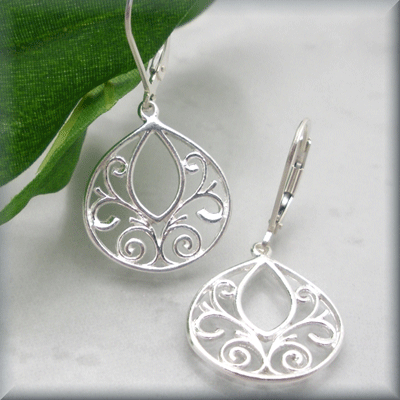 One of the most often asked concerns about silver jewelry is - Will it tarnish?  The simple answer is yes.  Tarnish is a discoloration of the metal and is natural reaction when silver and oxygen (air) interact.  However, how long it takes for the silver to discolor will depend on a number of variables.  Humidity, water, chlorine, hairspray, perfume, air pollution - just to name a few - can all discolor your jewelry.  Oxidization (tarnish) can also be caused by the acids in your skin, perspiration, or with lotions or cosmetics that you use on your skin.  There is no hard and fast rule as to when your silver will discolor; it could be within days for some people and take weeks or months for others.
How can you prevent tarnishing?  While nothing can completely stop the process, there is something you can do to slow the oxidization down.  Keep your jewelry in small airtight (ziplock style) bag when you are storing it to keep air and humidity to a minimum.  Be sure to roll or squeeze out all of the air.  Wrapping it in a soft cloth first will also help or you can add an anti-tarnish strip to the bag.  Also, do not store your jewelry in the bathroom or shower area as there is often additional moisture, which can speed the oxidization process up on jewelry.
The best way to remove tarnish is to use either a silver polish or a polishing cloth made specifically for jewelry.  Silver cleaner is available and can be picked up at most grocery stores or at a jewelry store.  Polishing cloths (my favorite is the Sunshine Cloth) will also do a nice job of removing tarnish from your jewelry.  The Sunshine Cloth will also work on any metal - gold, silver, copper - so it's a nice option if you have different types of metal in your jewelry.  Be aware that some items, such as pearls and opals, should not be subject to any harsh chemicals or jewelry cleaners.
Wear your sterling silver jewelry as well - this is one of the easiest ways to prevent your favorite pieces from tarnishing!